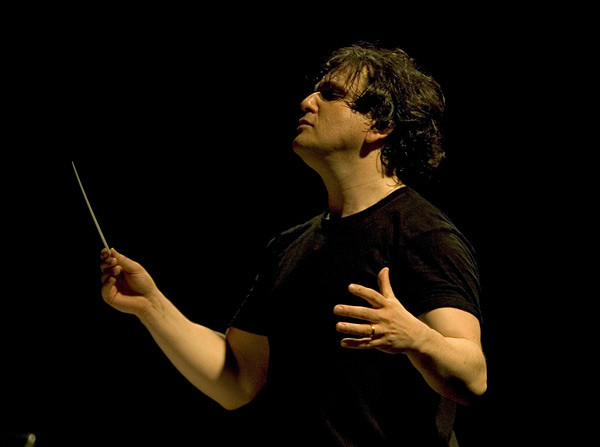 Antonio Pappano © Clive Barda/ROH 2011
As part of our monthly series of recommended recordings from the Royal Opera House Shop, this month we take a look at releases from Antonio Pappano, Julia Lezhneva and Simon Rattle:
Antonio Pappano - Rossini: Petite Messe Solennelle (EMI)
Antonio Pappano's ongoing series of recordings with his Roman forces at the Accademia Nazionale di Santa Cecilia has given us a double disc of Rossini's late piece Petite Messe Solenelle.  Pappano is a masterful Rossinian – the playing is crisp, fierce where needs be, mellow the next moment. The four soloists are perfectly weighted, and the chorus work exemplary. This is a thrilling recording, one to set next to Pappano's previously released Verdi Requiem.  My only reservation is that the live takes have resulted in a bit too much reverberation for my taste, but don't let that put you off for a second – this is a major release.
Julia Lezhneva - Alleluia (Decca)
Julia Lezhneva is Russian, but polished her craft under Dennis O'Neill in Cardiff. Her first recording on Decca has just appeared, an exploration of eighteenth century motets by Vivaldi, Handel and Mozart, including one previously unrecorded by Nicola Porpora.  This is premium quality singing: Lezhneva's tone is equal throughout, completely technically in control of some fiercely difficult writing, but most importantly she sings without any artifice – her communicative ability shines through every number, and puts this release straight to the top of my list of 'must have' discs this month.
Simon Rattle/Berliner Philarmoniker - The Rite of Spring (Le Sacre du printemps) (EMI)
In its centenary year, recordings past and present of Stravinsky's Rite of Spring have been tumbling off the production line. The latest comes from EMI, with the Berlin Philharmonic under Sir Simon Rattle, and if you can't decide which Rite is for you, this might be your safest bet. Boasting sumptuously clear and expansive sound, the Berlin Philharmonic plays with astonishing control and detail. It may all be a bit coolly considered for music this shockingly innovative, but it is a mightily impressive reading.  Symphonies of Wind Instruments and Apollon musagète fill the CD to a generous 75 minutes.
Read our recommended recordings for March
What recently released recordings would you recommend?